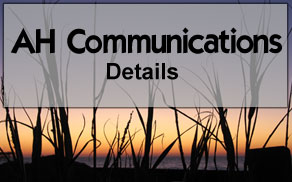 AH Communications, Inc

(AHC) has been providing creative & technical services for more than 25 years.

Pricing is competitive and based on the services/products included in the project. Most web & other software development is priced per project.

Ask us about discounts for large and on-going projects.

Hourly rates are available for applicable and/or smaller projects.

Travel expenses/time may be added for locations that are more than a 50-mile radius from our offices.

All Photographs on this Site: Copyright - Regina Hudson & AHC

AHC retains the copyright to its photographs and software; however,
clients are granted a non-exclusive license
for personal and/or commercial use, as applicable.